Starting in Firefox 63, pressing Ctrl+Tab opens a new dialog that reminds of the Alt + Tab dialog of Windows. It shows thumbnail previews of all open tabs. This feature is enabled for users with a clean or new profile. If you are not happy with this change, here is how to restore the classic way of switching between tabs with the Ctrl + Tab shortcut keys.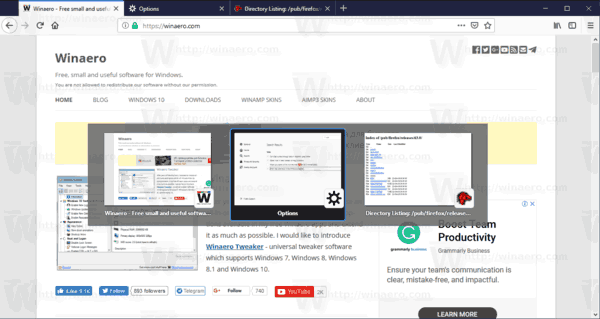 When this new Ctrl + Tab dialog is enabled, it also changes the order you switch between tabs. It cycles through tabs in recently used order. Here's how to disable it and restore the classic tab switcher.
To disable Ctrl+Tab Thumbnail Previews in Firefox, do the following.
Open Firefox and click on the hamburger button to open the menu.
Select the Options item from the menu.
Click on 'General' on the left.
On the right, turn off the option Ctrl + Tab cycles through tabs in recently used order. This will restore the classic behavior of the tab switcher and disable thumbnail previews for tabs.
You are done.
Alternatively, you can turn this feature on or off by visiting the about:config page and changing the option browser.ctrlTab.recentlyUsedOrder. Here is how.
Disable Ctrl+Tab Thumbnail Previews in About:config
Open a new tab in Mozilla Firefox.
Type about:config in the address bar. Confirm that you will be careful if a warning message appears for you.
Enter the following text in the search box: browser.ctrlTab.recentlyUsedOrder.
Modify the value of the browser.ctrlTab.recentlyUsedOrder parameter in the list below. A value data of true enables the feature. When set to False, the browser has the classic tab switching behavior.
That's it.